Providing students with the PRACTICAL information and HANDS-ON training that can be immediately applied to working with real estate professionals.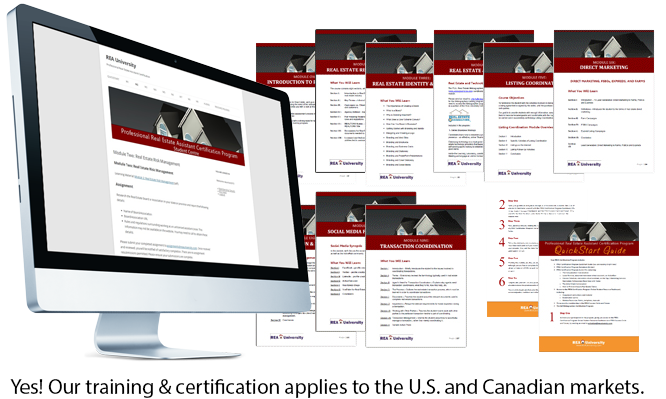 Professional Real Estate Certification Program (CPREA)
Based on over 10 years in the trenches, both as an in-house Real Estate Assistant and a virtual one, co-creator and lead instructor Pam Ivey founded the REVA Institute and its certification program.
A 9-module, self-study, university-level course that takes participants through the most comprehensive and informative training available today. Three bonuses are also included. See the program outline below.
All modules are available on-demand, online, which can be taken at your convenience – making it possible to continue with your current job or other responsibilities. We are dedicated to providing the best in the development and education of our community.

PREA Certification Program Learning Objectives:
To provide the student with the knowledge, skills and confidence necessary to effectively support real estate professionals by providing comprehensive theory and practical hands-on experience in our modules and accompanying audio training series, templates, forms and guides.
Module 1: An Introduction to the Real Estate Industry
In this first module, we'll give you an in-depth overview of the real estate industry including the roles of the agent, the broker and the assistant and will also provide you with a look at the many services you can provide real estate professionals. We'll also discuss setting your general rates for working with real estate professionals and some of the ways you can gain real estate clients.
Module 2: Real Estate Risk Management
Ensure you know your obligations and what you can and cannot do as an unlicensed assistant. Real estate is a heavily regulated industry all across North America. Learn the legalities as it applies to you as an unlicensed assistant and ensure you lead your business informed and ethically sound.
Module 3: Identity and Branding
Gone are the days when a photograph of an agent on a business card or billboard were effective means of promotion. With the deluge of advertising everyone sees on a daily basis on TV, flyers, the newspaper, billboards, magazines, as well as the Internet, your realtors needs a memorable visual, along with a memorable 'hook', perhaps a slogan or trademark. Learn to develop the look and feel for your realtor's brand to ensure they stand out from their competitors.
Module 4: Real Estate and Technology
The Real Estate and Technology module consists of what you need to work with real estate professionals effectively and efficiently.We'll study Top Producer 8i, virtual tour, feedback, single property sites, QR codes, and a whole host of other technology systems that modern real estate professionals need to allow them to survive and thrive in today's competitive market.
Module 5: Direct Marketing, FSBOs, Expireds and Farms
Despite the popularity of the Internet, print marketing still remains a vital ingredient in a realtor's success toolbox. We'll examine how to determine and develop a farm area using flyers, print newsletters and postcard marketing to reach a desired target market. We'll also show you some of the more effective techniques used to generate leads for your realtors from the creation and management of a stealth webpage, to open house sign up programs, to expired and for sale by owner tactics, to free new home buyer or investor seminars.
Module 6: Social Media for Real Estate
Social media is a critical key marketing tactic for local recognition and expert status. In this course, we'll cover the 'big 3′ – Facebook, LinkedIn and Twitter, and how you can introduce the agent to their importance. We'll teach you how to set up profiles for each of these sites, as well as Facebook Pages, gaining followers, connections and friends, and how to make the most of each account.
Module 7: Lead Generation & Management
In this module, we'll show you how to manage the contacts you've helped your agent generate using the ever-popular Top Producer program to enter the leads, apply appropriate categories, and then to create comprehensive follow up plans to give your realtor every opportunity to convert these leads into clients.
Module 8: Listing Coordination
Here, we'll really get down to brass tacks. We'll teach you all that's involved in listing coordination – from pre-listing to close. Learn how to create listing and pre-listing packages, CMAs, property flyers, layouts for print advertising, and entering a listing into an MLS system, Top Producer, Homefeedback , and more!
Module 9: Transaction Coordination
There are a myriad of details involved in the closing of a real estate property. Learn how to create an action plan and checklist to ensure all i's are dotted and t's are crossed. We'll provide an overview of SettlementRoom, a popular online transaction management system, and explain the process from the acceptance of an offer to the exchange of keys.

What makes the PREAC program different?
There's so much more to real estate than just the transactions. It's essential that today's real estate assistants understand the most effective lead generation methods, how to produce a successful listing campaign from start to finish, and so on.
The Professional Real Estate Assistant Certification (CPREA) designation lets your clients and prospects know that you're serious about your business, making you more marketable and highly sought-after by real estate professionals.
Individual modules are also available.
Visit REA University to register and get all the details.